CARLA BOYLAN
Carla joined the firm as an assistant in October 2014, she is a valued member of the team and was promoted to associate in 2016.
Carla's main area of practice and interest is in family law, she has extensive experience in dealing with all areas of family law, including divorce, contact and residence disputes, children's hearings, adoption and permanence orders. Carla is committed to achieving good outcomes for her clients and their families; she regularly conducts child welfare hearings, proofs and social work referrals at sheriff courts throughout Scotland.
Well known in Glasgow sheriff court, Carla appears there most days on behalf of her own clients and as local agent for many solicitor firms. Carla has general experience in all areas of civil litigation and is developing a private client practice which allows her to offer a well rounded service to her clients.
Carla has served as a committee member on the Glasgow Bar Association.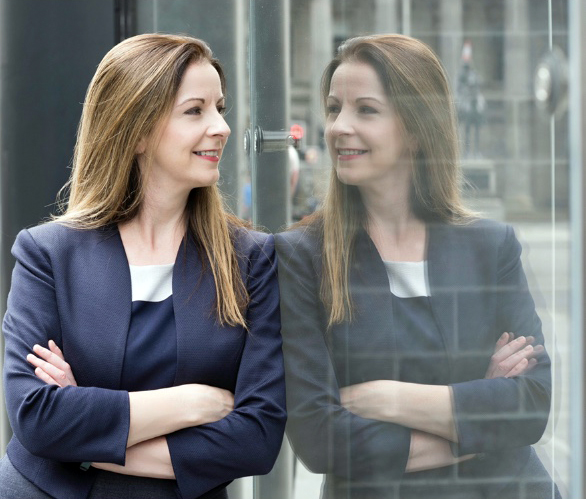 NICOLA IRVINE
Nicola has been a partner since 2008 and is now the firm's managing partner.
A highly skilled court practitioner, Nicola enjoys a well deserved reputation as one of the most skilled civil litigators of her generation. She is best known for her expertise in dealing with commercial and contract disputes; debt recovery; housing disputes; sequestrations and liquidations; and personal injury. Nicola also has an interest in criminal defence and regulatory work. She is held in high esteem by her peers, who frequently rely on her advice and help, not just on an informal basis, Nicola has successfully represented a number of solicitors at the Scottish Solicitors' Discipline Tribunal.
Nicola is frequently appointed by sheriffs as safeguarder in guardianship cases, in order to protect the interests of vulnerable adults.
In June 2017, Nicola was elected as the Dean of the Royal Faculty of Procurators a role which she excelled in. Her abilities were also recognised when she was appointed as a legal member of the First Tier Tribunal. 
JAMES MULGREW
Along with Frank Moore, James joined the firm as a partner in October 2014; he is well known and generally regarded as one of the most skilled and dedicated criminal defence agents in practice. James is a Solicitor Advocate, with rights of audience in the High Court of Justiciary. He brings an enthusiasm to his cases that is much admired by instructing solicitors and clients alike, his legal knowledge and ability is well recognised and he is frequently instructed to defend clients in courts throughout Scotland and at all levels. James has conducted numerous trials in the high court and has experience of defending clients facing charges of murder and other crimes of violence, drug trafficking, and financial crime. He has also represented clients at fatal accident inquiries and other public inquiries.
James also has an interest in regulatory work, he has successfully represented clients before the Traffic Commissioner, Nursing and Midwifery Council and other disciplinary bodies; he is a legal assessor to the General Teaching Council in Scotland.
FRANK MOORE
Along with James Mulgrew, Frank joined the firm in October 2014, like James, Frank is a solicitor advocate and is a skilled criminal defence agent. With over 20 years experience in criminal law, Frank is well established as an excellent court practitioner who is dedicated to representing his clients at the highest level and achieving the best possible outcome for them. He is tenacious in his investigation of cases and will leave no stone unturned in identifying all lines of enquiry and exhausting them.
Frank practises in all areas criminal law and in particular has experience dealing with road traffic, sexual and drug offences, he has an excellent record in achieving acquittals and, where appropriate, negotiating fair outcomes with crown office.
CLAIR McLACHLAN
The firm's senior partner having joined the firm in 1993 and being assumed as a partner in 2001.
Clair is a well rounded and highly regarded general practitioner with particular interest in all areas of Family Law and private client work.
Her areas of practice include, financial provision on divorce, civil litigation, domestic and commercial conveyancing and leasing, preparation of wills and powers of attorney and executry work.
She is committed to providing clients with common sense advice at times of need and supporting them through the more difficult periods of their lives such as divorce, or losing a loved one. She is also on hand to assist with the happier events such as buying their dream home, or securing a good business opportunity.
Held in high regard by the sheriffs in Glasgow, Clair is frequently appointed a Commissioner in civil and criminal cases; she is also often approached by her peers for guidance and advice on a range of matters and on occasion to provide expert opinion in professional negligence cases.
Clair is currently the convener of the Law Society's Civil Legal Aid Quality Assurance Committee and along with Nicola Irvine she regularly tutors trainees in civil litigation. In the past, she has served as president of the Glasgow Bar Association and was one of the last members of the Sheriff Court Rules Council before it was disbanded.
TAYLOR MUIR
Taylor joined the firm in 2018, having graduated from Strathclyde University.
Taylor's interests lie in criminal defence work and he has become a valuable member of the criminal department. He has conducted trials, proofs in mitigation, prepared High Court trials and has regularly instructed Counsel. Not wanting to limit his areas of practice, he has experience in civil litigation and private client work. He also represents clients at children's panel hearings and sheriff court proceedings arising from those hearings.